Custom Board Game Tables Made in ontario canada
FINELY CRAFTED DUAL DUTY GAMING TABLES
Looking for a meticulously crafted table that is fit to host dinner and easily converts to a professional gaming table? 
Enjoy quality time with the family playing classic board games or endulge in more serious adult games where beverages are consumed , sometimes alcoholic (so we have heard)
I have the knowledge and ability to completeley conceal that it is a playing table. It can look like a rustic farmhouse table , a beautiful maple table or a high end walnut dining table. It can also be made from the best exotic wood options in Canada. 
I offer the broadest spectrum of customisation and will do my best to work within your budget. 
Lets take after dinner entertainment with the kids or adults to a new level. 
This would also qualify as a mancave or gamesroom showstopper.

WE ARE HUGE ON PROVIDING OLD WORLD CRAFTSMANSHIP WITH GOOD OLD FASHIONED CUSTOMER   SERVICE
CRAFTING FURNITURE THAT WILL BE PASSED ON FROM GENERATION TO GENERATION BENEFITTING YOU AND THE ENVIRONMENT IS OUR MODUS OPERANDI
GAMING TABLE EXAMPLE DESIGN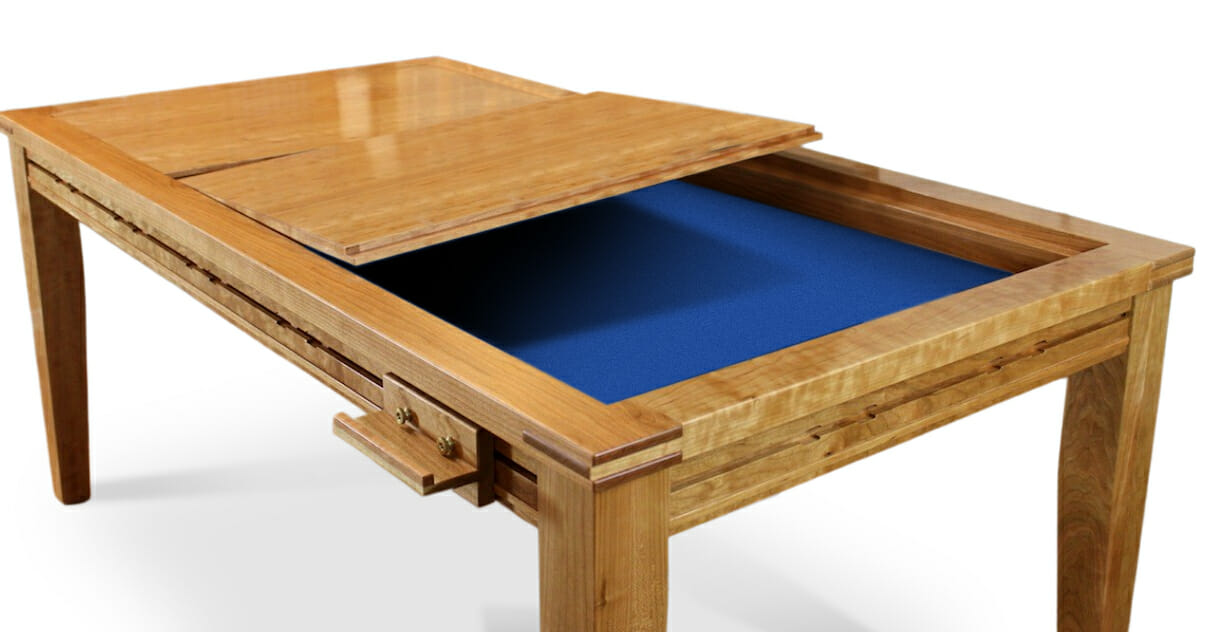 WHAT ELSE CAN WE DO FOR YOUR GAMING TABLE ? BEING A CUSTOM WOODWORKING SHOP JUST ABOUT ANYTHING
WE HAVE COMPLIED A LIST OF SOME OPTIONS AVAILABLE TO YOU BELOW TO GET YOU STARTED THINKING. THIS IS NOT AN EXHAUSTIVE LIST NOR IS THE DESIGN PICTURE ABOVE THE ONLY STYLE , CONFIGURATION, WOOD TYPE AND FABRIC COLOR AVALIABLE. I OFFER COMPLETE CUSTOMIZATION. SEE A PICTURE OF ANOTHER DESIGN YOU LIKE? WE CAN REPLICATE EXACTLY OR ADD, CHANGE OR REMOVE ELEMENTS. STAY SIMPLE OR GET CRAZY 
Built from your choice of highest quality Canadian hardwoods like black walnut, white oak or maple for example

Choose your prefernece of unreal exotic woods like Bolivian Rosewood, African Mahogny or Leapordwood for example

Player stations, cup holders, card holders, mug holders that can be a concealed system or railed system or your custom idea

Thin concealed drawers

Motorized table top lift with high quality linear actuators

Custom wood or metal inlays in table top or on other table areas such as legs or aprons any type any shape or design

I welcome simple family designs as well as the challenge of your most outrageous customization ideas

For in-depth customizations I can offer clients complete design drawings with 3d models and renderings so you can see your custom table before we build it.

I ship safely with a reputable logistics partner to any destination in Canada or the US.  There are different shipping services avaliable such as tailgate delivery at your home or office or complete white glove delivery , your table will be carried in, unpackaged, and setup where you want it. Whatever your shipping requirements may be they are included in your pricing.

We offer local personal delivery to locations within 8 hours or our shop in Ontario.
"Hello Derek I just wanted you to know that I just love the table. I never told you about the story as to how I ended up getting one in the first place.
My wife Sarah and I wanted to get a live edge table for sometime. In our farm we always wanted a piece like that- one that would last the "the test of time" as they say. We raised horses amongst our busy lives. Anyway, Last year Sarah was diagnosed with cancer and then passed after a 6 week fight with the disease. I was left with my daughter Rory and frankly a completely destroyed life.
In that time we have worked on rebuilding it and finding happiness again.  The one thing I remember about your approach was how professional and sincere and well passionate you were about your craft. I tell that part of the story when I tell friends about the table. 
When we came to get the table you met Jacalyn. She has been part if our life rebuild.  So a life still has hope right.
I just wanted you to know how much I appreciated your work. I believe 100 years from now that table will still be playing host to people around that table.
Kindest regards
– Neil Mac Innis

We hired Derek / Western Pride Woodworks to design and build a custom showcase dining table, along with a small breakfast table. We wanted something oval-shaped for the dining table, and he managed to find a sustainably-sourced California Redwood burl. The final piece is absolutely mesmerizing. It's completely changed the atmosphere in our dining room, and is now the heart of the entire house. We are so impressed with Derek's work – communication, professionalism, delivery – but most importantly his artisanship and craftsmanship. Would definitely recommend.– Natalija Pavic
"After looking on the internet to find a custom woodworker to build me a live edge kitchen table and bench I found Derek's website and it represented itself as quality custom work. After speaking with Derek and a few helpful hints and ideas we came up with a plan for something unique. And unique it was. I wanted a custom table made a little wider than normal but I only wanted one piece I did not want 2 pieces. Well after leaving it with Derek and him searching all his resources he was able to come up with exactly what I wanted. Derek kept me informed of every step along the way from the start of the search until the finished product. And let me tell you the finished product is absolutely gorgeous. Derek did an amazing job of drying, plaining and finishing this table and bench which is also only one piece and live edge on both sides. I am always looking for one-of-a-kind things and Derek definitely delivered that to me. I will do future projects as building a bar and Derek is already searching of another unique one-of-a-kind live edge bar top for me. I can't thank Derek enough and he has definitely done a fantastic job for me and look forward to working with him in the future as he now has all my business. I highly recommend Derek for all your custom work."
– Wayne Watson
I hold the utmost respect for the beautiful trees that inhabit our earth. They are just as alive as we. Unfortunately, trees do not stand forever.
There are many reasons why they have been removed or have fallen, including safety reasons and damage. This is where live edge and solid wood furniture become interesting.
We bring forth the inner beauty of these trees and give new life in the form of furniture that will be passed on from generation to generation.
CONTACT US
FREE CUSTOM FURNITURE QUOTE
Contact me for a quick and free quote on your custom furniture requirements. Please use the form below or email/call me directly
Call or Text
705.896.4840
derek@westernpridewoodworks.com LIVE EDGE TABLES &
UNIQUE CUSTOM FURNITURE
Western Pride Woodworks is a custom woodworking shop located in Innisfil, Ontario.
Producing live-edge tables, fine furniture, unique furniture builds and more. 
7681 10 Sideroad Innisfil Ontario L9S-4T1
We accept all major credit cards and etransfer for your payment convenience
Ontario Delivery Included – Canada Wide Shipping Included-United States Shipping Included
See our Cancellation policy 

Ask about discounts for first responders and healthcare workers
Canada and US Wide Shipping Avaliable